Library of Congress & Herb Block Foundation
Digital Herblock cartoon retrospective (2009)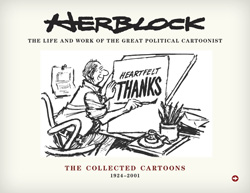 Design, production, and editorial development. Starting with 18,000+ scanned cartoons from the Herb Block Foundation and the Library of Congress, 42-line designed and organized a digital retrospective of Herblock cartoons from 1924 to 2001. The 2.2 gigabyte DVD accompanies Herblock: The Life and Work of the Great Political Cartoonist published by W.W. Norton, the Library of Congress, and the Herb Block Foundation in conjunction with the Library of Congress exhibition (www.loc.gov/rr/print/swann/herblock) marking the centenary of Herb Block's birth. 42-line managed and processed mountains of raw data, custom-designing a workflow to generate date labels for cartoons from numerical file names, and the formulated an intuitive data structure and navigational scheme. At right, detail, Herblock in his cartoon for The Military News, Camp Robinson, Arkansas (June 4, 1943).